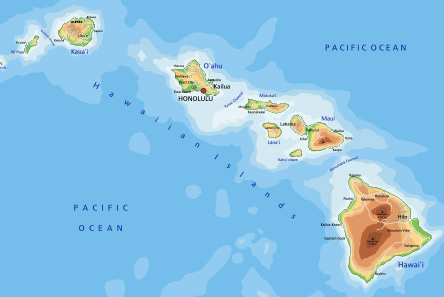 Hawaii is recognized as one of the most beautiful places on the earth and takes the top spot on many best vacation ranking lists. But so many options makes one spoilt for choice and leaves them baffled. You can chill out at the beach soaking the sun or listen to soft ukulele being played in the distance or just admire breathtaking sunrises and sunsets sipping Kona coffee. Join the boisterous luaus for a funfilled evening, get a mesmerizing view of the Technicolor shoals and reefs and swim with sharks and dolphins; this place has a lot to offer for all ages and interests.
Here's a comprehensive guide about the Best Places to Stay in Hawaii as per budget, age group, activities, and the size of the group traveling. The list contains a list of luxury hotels, resorts, condominiums, rental homes at the best places to stay in Hawaii.
MAUI – BEST FOR FIRST-TIMERS
Most often associated with Hawaii, Maui has postcard-worthy views, world-class beaches, plenty of activities, a variety of restaurants, and good shopping options. Keep in mind that West Maui tends to be more tropical and greener and South Maui is drier and sunnier.
Good For: First-time vacationers, executioners
WEST MAUI
Kapalua Area – Most high-end hotels and condos
Montage, Kapalua Bay – One of the dreamiest resorts with a beautiful beachfront view and exclusive amenities.
Ritz-Carlton, Kapalua – An elegant property in beautiful Kapalua having Maui's best and largest spas spanning in 17,500 square feet.
Kapalua Villas – Breathtaking view good for a tropical honeymoon, has low rates and many special offers
Maui's Lahaina & Kaanapali Area – More budgeted hotels and condos available
Kaanapali Beach Hotel – Super view and friendly place with perfect location adjoining the beaches and snorkeling sites
Kahana Sunset, Lahaina – vacation apartments on a private beach with heated outdoor pool, children's wading pool, close to shops
Best Western Pioneer Inn, Lahaina – Located in the heart of the charming Lahaina Town offering a scenic plantation style atmosphere
The Kulani Maui – Just 200mtr from Kamehameha Iki Park Beach and 1.5 km from Puamana Beach Park the property features reasonable accommodations with a garden
South Maui (Maalaea, Kihei, Wailea)
Maui's Wailea Area - Most high-end hotels and condos
Grand Wailea – Promises a lifetime experience with their grand wailea signature rooms, HoÓlei villas, and Napua club
Wailea Beach Marriott Resort & Spa – Perfectly placed at the edge of the ocean, the family-friendly hotel offers ocean inspired decore, and plush amenities
Andaz Maui at Wailea – The 15-acre beachfront property with rooms boasting a tropical view, a farm to table dining concept serving 'ohana-style meal, and authentic luau
Maui's Kihei Area - More budget-friendly condos
OAHU – FOR NATURE LOVERS, COUPLES AND FOODIES
There are several places to stay in Oahu like Waikiki Beach. Waikiki is awash with hotels ranging from basic economy to mid-range to luxury to holiday apartment rentals.
Good For: Beach Bums, Budget travelers, Backpackers, Culture Vultures, Families & kids
Neighborhood highlights: Diamond Head, Pearl Harbor, Hanauma Bay, USS Arizona Memorial, 'Iolani Palace, Polynesian Cultural Centre, Waikiki Aquarium, Royal Hawaiian Centre, Lucoral Museum
LUXURY HOTELS IN OAHU:
Aston Waikiki Beach Hotel – Right on the beachfront and adjacent to Honolulu Zoo. Most rooms offer ocean views from their balconies.
Royal Hawaiian - Historic, grand, and beautiful but pricy
Queen Kapiolani – Recently renovated and best known for their Diamond Head view room
The New Otani Kaimana Beach Hotel – Great view facing Waikiki and the ocean
Moana Surfrider (Westin) – Has a 10,000sq ft of event space with shopping, dining and lots of entertainment option
MID-TIER HOTELS IN OAHU
The Kahala Resort (southeast Oahu) – The only hotel offering oceanfront luxury in the Kahala community and own restaurants, Dolphin Quest and an adjacent golf course.
Turtle Bay Resort (North Shore) – The area's only beachfront hotel and condo community is a 4-star property offering an ocean view from most of the rooms. The resort is built on a peninsula flanked by two beaches. Room rates are fairly reasonable and offer a relaxing vacation with several good restaurants, great sightseeing spots, horse riding, golf, and many more activity options.
Hilton Hawaiian Village Waikiki Beach – Best for couples and honeymooners, Magnificent views with plenty of activities
Ilima Hotel – Just a 6-minute walk from the beach, has a swimming pool, fitness center terrace ideal for sunbathing.
FAMILY-FRIENDLY HOTELS IN OAHU
Ko Olina (Southwest Oahu) - The place is a mix of condos and hotels outside of Waikiki. Area activities include tennis, golf, spas and more.
Aulani Disney Resort & Spa, Ko Olina - Known for fire pit storytelling, painting party and greet hour with Disney friends.
Four Seasons Oahu (Newly opened) - Manmade lagoons at Ko Olina offer sheltered area for kids to swim and play.
BUDGET ACCOMMODATIONS IN OAHU
Coconut Waikiki Hotel – Modern guest room includes 40-inch flat-screen cable TV, kitchenettes, work desk and ensuite bathroom, free continental breakfast, free WiFi. Includes an outdoor swimming pool, sun terrace, and BBQ facilities. The Royal Hawaiian Shopping Center is just a 10 minutes' walk away.
Kalani Hawaii Private Lodging, North Shore, Pupukea – Exceptional ratings, bunk beds, and mixed dormitory rooms,  5 minutes walk from the surfing competition beach and 3.8 km from Waimea Bay Beach.
Backpackers Vacation Inn & Plantation Village, North Shore - Best budget accommodation for travelers, surfers, and avid beach bums. 5 minutes' walk to Sharks Cove and Waimea Bay and 1.6 km away from the S
unset Beach Park.
THE BIG ISLAND – BEST TO SEE ACTIVE VOLCANO
As the name suggests, it is Hawaii's largest island and the youngest. The Big Island is known for home to Earth's most active volcano: Kilauea; a haven for hikers. Besides this, the island features emerald valleys, lofty waterfall pools, beautiful beaches and turquoise water home to dolphins and humpback whales to countless species of fish and sea turtles.
Good for: Excursionists, Backpackers, Nature Lovers, adventure seekers, culture vultures
Neighborhood Highlights: Hawai'i Volcanoes National Park: Kīlauea, Nāhuku – Thurston Lava Tube, Mauna Loa, Hōlei Sea Arch, Kaimū Beach Park, Akatsuka Orchid Gardens
LUXURY HOTELS IN THE BIG ISLAND
Sheraton Kona Resort & Spa at Keauhou Bay – It's a 22-acre oceanfront oasis providing exciting Manta Ray Super Slide and pool and onsite Hoola Spa.
Royal Kona Resort – Gorgeous oceanfront views besides Kailua Bay. Provides oceanside pool, a fitness center, tennis court, spa and more
Aston Kona By The Sea - Situated alongside a stunning shoreline and sandy cove the hotel provides one- and two-bedroom suites with kitchens, WiFi and washer/dryers MID-RANGE HOTELS IN THE BIG ISLAND
Royal Sea Cliffs Kona by Outrigger - Peacefully located overlooking the stunning Pacific known for its distinct design and lovely open-air ambiance. Affordable accommodations include kitchens and washers/dryers to make it a complete winning package.
Kona Seaside Hotel - A landmark institution located right in the heart of Kona and close to Kailua Bay and pier. It offers affordable oceanfront accommodations with an outdoor swimming pool and more.
FAMILY-FRIENDLY HOTELS IN BIG ISLAND
Royal Kona Resort – The themed resort is just a stone's throw away from Kona. Has a private beach, onsite spa, a wellness center. Just 20-minute away from Kona International Airport. It provides an ideal base to explore nearby Holualoa and Kahaluu-Keauhou.
Kings' Land by Hilton Grand Vacations Club – Air-conditioned rooms include a private balcony and kitchen equipped with a microwave and kitchenware. Has a garden to unwind, a Jacuzzi, an outdoor pool, a fitness center, water slides, a kids pool, and a sun deck.
Wyndham Kona Hawaiian Resort - 100 well-appointed rooms have a range of essential amenities, an in-house restaurant, Jacuzzi and an outdoor pool.
BUDGETED ACCOMMODATIONS IN THE BIG ISLAND
Kilauea Lodge – The homely and affordable lounge is set in a 1938 house. It offers Double, twin and family-sized apartment with hot tub and spacious garden area.
Volcano Inn – Eco-friendly accommodation at Old Volcano Road. Offers an American-style buffet, has 3 salt-water hot tubs and a tropical garden.
Shaka Shak Garden Inn - 4-star accommodation that offers free Wi-Fi, a swimming pool, property's garden, and a BBQ/picnic area.
KAUAI - FOR NATURE LOVERS
Kauai: Hawaii's gorgeous 'Garden Isle,' Kauai has dramatic beaches with lush green landscapes that give some of the top beaches in Asia a run for their money. The island's off beaten path serves as a great spot to truly escape from it all and enjoy an ultimate relaxing vacation.
Kauai is the right place if you prefer small villages over resorts, best point break waves rather than tourist schools, and stunning beaches free from crowds.
South Shore
Beautiful Poipu Beach is the star attraction awarded as the "Best Beach of America" by the Travel Channel. Includes Koloa and Waimea.
North Shore
Star attractions are the Princeville which is a planned resort community with all the amenities to make vacationers happy. The small towns of Hanalei and Kilauea also worth checking if you want to drift from the resort.
East Shore
The most populous part of the island and also more affordable than the North and South Shores. Serves as a good base if you plan to explore more.
Good For: Holiday Makers, for Beach Bums, Nature Lovers searching for peace, tranquility and romantic settings, Families, Luxury Travelers, Older Travelers
Neighborhood Highlights: Na Pali cruise, Grand Canyon of the Pacific, Koloa Zipline, Old Koloa Town, sunny Poipu Beach, Mount Waialeale, Shipwreck Beach, Baby Beach, Kauai ATV, McBryde Garden, Allerton Garden, Moir Gardens
FAMILY-FRIENDLY HOTELS IN KAUAI
The Kauai Inn – Within easy reach of the airport, charming accommodations, easy to reach to the beach, tropical themed rooms with TV, microwave, fridge, phone, free Wi-Fi, gorgeous gardens and inviting swimming pool
Castle Kiahuna Plantation & The Beach Bungalow – 35-acre property just a 3 minutes walk from the beach. All rooms have an ocean or garden view. Amenities include WiFi, cable TV, huge swimming pool and massive hot tub.
Castle Kaha Lani – centrally located on the Coconut Coast, low rates on big condos with kitchens, oceanfront view, 5-minute walk to Lydgate Beach Park and no resort fee.
MID-RANGE HOTELS IN KAUAI
Garden Island Inn Hotel - boutique hotel full of Hawaiian art, charm, and ambiance, welcoming staff, no resort fees, WiFi, beach gear, all-day snacks, rooms that can fit 5 people, with kitchenettes, wall-mounted TV, free Wi-Fi, Self-serve laundry
Aston at Poipu Beach Kai - Nestled on 84 lush landscaped acres, this condominium resort has delightful ocean views, tropical gardens, private pools, and tennis courts. Adjacent to Shipwreck Beach and the "Spouting Horn" blowhole.
Poipu Shores Resort - 5 minutes' walk from the Poipu Beach, near Spouting Horn with spectacular views, oceanfront pool overlooking Hawaiian green sea turtle sanctuary.
LUXURY HOTELS IN KAUAI
Sheraton Kauai Resort – A five-star resort with two outdoor swimming pools and a private beach area and a superb fitness center. Guests can dine on the oceanfront lawn.
Marriott's Kaua'i Beach Club – Located steps of Kalapaki Beach best for oceanfront living in Hawaii. Condo-style villa accommodations, day spa, and salon with a variety of relaxing treatments
Koa Kea Hotel & Resort – Rated as the "Top 3 Most Romantic Hotels in the US" choose from an oceanfront double room/king room or room with a garden view, has poolside bar and grill, offers best culinary experience at ko`a kea
BUDGET HOTELS IN KAUAI
The West Inn Kauai – 3 min walk from the Waimea Bay Beach, 20 air conditioned guestrooms with Picnic area, Barbecue grills Free WiFi
The Garden Island Inn Hotel - One of Kauai's best bargains within walking distance from Kalapaki Beach. 21 rooms with kitchenette, free Wi-Fi, free beach chairs and towels, snorkel gear, boogie boards, and other gear provided.
Kauai Coast Resort at the Beachboy - Moderately priced studios, one/two-bedroom condos overlooking the ocean with a beautiful view of sunset and sunrise. The resort has a pool area, sun deck and is located close to the Coconut Marketplace.
HOW TO CHOOSE THE BEST PLACES TO STAY IN HAWAII
If you are a first-time visitor and wondering where to stay in Hawaii, Oahu and Maui are the best places; at least for a start. Honolulu/Waikiki is where all the action is and West Maui provides great introductions to the islands due to its developed strip running from Kapalua to Lahaina and from the South Maui to Ma'alaea Bay to Makena. This is where lots of first-timers arrive first.
If you're traveling with family and kids, then you are better off choosing Oahu and Maui for its great beaches and lots of activities.
Kauai, on the other hand, is popular for a tranquil beach vacation and off beaten tracks good for exploring.
Big Island is especially loved by kids and its also hard to beat when it comes to a lot of options for activities and adventures.
Lanai or Molokai are kept out of the list as fewer travelers stay here and the island is known for its palpable rural ways of living and have few holiday rentals.
Hopefully, this will answer your question about the best place to stay in Hawaii. Flightstohawaii.org is a top-rated holiday-maker and travel broker that caters exclusively to Hawaii travel. We have an exhaustive list of hotels, luxury resorts, condos and multi-story apartment properties that are all well-tested and tried options. We provide all-inclusive, semi-inclusive and customized holiday packages to top Hawaii destinations to fit all budgets.
If you have any questions or queries about traveling to Hawaii, you can call our toll-free number and our travel expert will be glad to guide you thru with all the options. Call Now for best deals on flights and packages to Hawaii on our toll-free number 1800-953-8509 or shoot your query at [email protected].