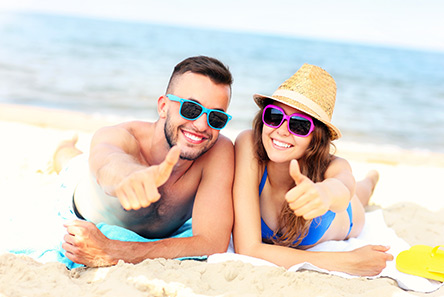 One of the best parts about planning a wedding is getting on a thrilling escapade with your "I dos." Surrounded by the pristine waters of the Pacific Ocean and a spectacular tropical landscape, Hawaii sets the mood just right for romantic couples and honeymooners.
Hawaii offers one of the most geographically diverse landscapes and visually stunning destinations in America. This tropical paradise experience comprising of sun, sand, cocktails is further accentuated by a unique experience of the ancient culture, quaint local towns and lots of exciting activities to try from.
Devoted to providing the best of the island experience to people of all ages, taste, and preference Flightstohawaii.org is geared towards providing quality, well-planned & well-coordinated, all-inclusive Hawaii honeymoon vacation packages to Maui, Oahu, Kauai, Waikiki Beach & The Big-Island of Hawaii. We are a well-known entity in the travel industry for our lowest fares and as an authority on travel to Hawaii. Flightstohawaii.org invites you to join our pool of tens of thousands of satisfied vacationers and benefit from our exclusive, unpublished deals and special fares.
PLANNING FOR YOUR HAWAII HONEYMOON?
Before you book the package, it's important for the newlyweds to narrow down to one or two of the Hawaiian islands suiting their personality and lookout. Oahu is a unique blend of city and beach attraction, while Kauai is full of natural wonder. Maui is the ultimate spot for amenity seekers, whereas the Big Island has a diverse landscape yet sparsely populated with visitors. Lanai, a single-resort paradise provides the ultimate privacy and luxury that honeymoon vacationers may be looking for.
OAHU
Oahu offers a range of options from top-notch restaurants to upscale malls and local shopping, Specialty Museums, theaters, and more. It has a wide crescent beach at the backdropped of high-rises and the iconic Diamond Head crater. Waikiki remains a popular spot for surfers, tourists, and locals. There are two beautiful mountain ranges and an amazing North Shore famous for its surf breaks. There are historic, cultural sites including Pearl Harbor and numerous botanical gardens.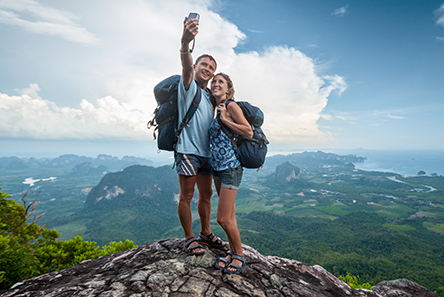 Our Oahu 8 Day Tour Includes the Following:
Flights, Airport Assistance, and Transfers
7 Nights Waikiki Hotel
Accommodation At The Upscale Beachfront Location
All-Inclusive Meals (Including Table-Top Grill) DINNER)
Relax Or Sail At The Stunning Waikiki Beach
ISLAND EXPLORATION TOUR
Hike of the Dimond Head
CANOE RIDE
Pearl Harbor Memorial Tour
Snorkel with Colorful Fish at Hanauma Bay
Polynesian Cultural Center Package and Tour of the Historical Sites
MAUI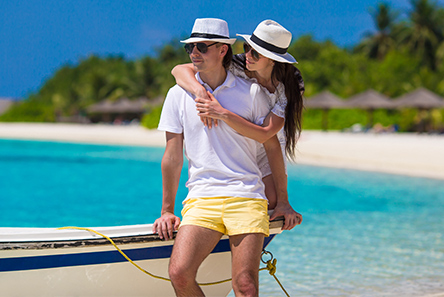 More of a beachy site with less of big-city vibes. The 10,000-foot Mt. Haleakala is a big attraction amongst visitors for its amazing sunset view and abundant adventure activities. Wailea Beach is the most popular with plenty of resorts built along its golden shores and Kapalua Bay has a more reserved ambiance. The most visited attraction is the "Road to Hana," known for its unbelievably scenic coastal drive.
Maui package includes
Flights, Airport Assistance, and transfers
Free Swedish Spa Massage
Tropical Beach, Shopping & Sightseeing of Lahaina
Oceanfront Brunch
Road to Hana Nature Safari
Free jeep ride and paddleboat rental
Maui Molokini & Turtle Snorkel or whale watching sail
KAUAI
This is the wettest, greenest, and lushest of all the island and also known as the Garden Isle. There are many posh resorts here. The 10-mile-long Waimea Canyon, kayaking at the Na Pali Coast, the Kalalau Trail scenic hike, or walking hand-in-hand along Hanalei Bay on the stunning golden beach is amongst the top activities.
Kauai Package Includes
Flights, Airport Assistance, And Transfers
Admission to An Ancient Hawaiian Village
Hawaiian Luau Polynesian Feast & Show In The Coconut Groves
Cruise To the Famous Fern Grotto Or Catamaran Snorkel Excursion
Adventure at Old Sugar Cane Plantation
Kauai Whale Watching Sail
HAWAII (THE BIG ISLAND)
The Big Island is famous for its active volcano – Kilauea which has been continuously erupting since 1983. The western coast has a variety of popular luxury resorts while the east side is filled with gardens, waterfalls and the town of Hilo which has a laid back seaside.
Flights, Airport Assistance, And Transfers
Hawaiian Luau a Polynesian Feast & Show
Circle Island Exploration Tour of The Big-Island Featuring Volcano National Park
Snorkeling Expedition
Expedition of Hawaii's Most Legendary Waipio Valley
LANAI
The former pineapple plantation is now converted into a tropical paradise and is ideal for couples seeking solitude. The population is sparse here. Call us for a custom tour package of Lanai.
Explore the enchanting island with our handpicked and carefully designed Hawaiian island honeymoons packages. Our itineraries are designed to provide you with ample time to stay together and makes sure you don't miss out on any of the top attractions in Maui, Kauai, Oahu, and the Big Island
Talk to our friendly & knowledgeable Hawaii Vacation Travel Specialists for best deals and flash offers and discover the top-rated Hawaii honeymoon Paradise vacation!
Call our toll-free number 24/7 on 1800-680-7350.